| | | |
| --- | --- | --- |
| Welcome | | You are not currently logged in. |
| | | |
| --- | --- | --- |
| | | |
| | | |
| | | |
Firefighter cancer rates should spur further action
An analysis of the health records of nearly 30,000 firefighters in three major American cities reaffirmed the conclusions of numerous smaller studies — professional firefighters have higher incidences of many cancers than the general population.

At this point the evidence seems incontrovertible.

"Compared with the U.S. population, we found small to moderate increases in risk for several cancer sites and for all cancers combined, stemming mostly from excess malignancies of the respiratory, digestive and urinary systems in otherwise healthy individuals," reports the Center for Disease Control's National Institute for Occupational Safety and Health, in a study released in October. "Our findings are consistent with previous studies and strengthen evidence of a relation between firefighters' occupational exposure and cancer."

The study also found a strong link between firefighter exposure to asbestos and malignant mesothelioma.

"Given that asbestos is the only known causal agent for malignant mesothelioma, and firefighter exposures are probable, the excess is likely to be a causal association."

Since we accept the scientific findings linking firefighting to increased cancer risk, and since we highly value the service firefighters provide our communities, we accept that society has a responsibility to help firefighters mitigate the risk and, when cancer is diagnosed, to help firefighters and their families deal with it in the best way possible.

Mitigation, we expect, will prove less complicated than remediation.

Last Sunday we reported on local cancer risk mitigation efforts being led by Portsmouth Fire Lt. Russ Osgood and Dave Lang at the Professional Fire Fighters Association.

Osgood became passionate about firefighter cancer risk after seeing two of his colleagues, Sarah Fox and Jeff Bokum, die from cancer in 2011 and 2012. Now he is working with others in the state to educate firefighters about proper use of protective gear and the need to thoroughly wash after exposure to toxic chemicals at a fire scene. He notes that firefighters have no idea what toxins they're exposed to during a fire.

"You have no idea — maybe it's a meth lab, maybe it's a bunch of computers burning, you never know," he told Seacoast Sunday. "A car fire is a toxic soup. You've got rubber and plastic and foam and all that stuff burning. You see that heavy black smoke — well that smoke is unburned product."

"The reality is guys are going to get cancer and you've got to support them," Osgood said.

In 1987, the New Hampshire Legislature passed a law that presumed for the purpose of worker's compensation that all firefighter cancers were work related. That law was later found to be unconstitutional because it was an unfunded mandate. Now, in an attempt to help the law pass constitutional muster, Portsmouth state Rep. Laura Pantelakos intends to submit a bill for this legislative session to fully fund worker's compensation for firefighters with cancer.

While we agree with the intent of Pantelakos' bill, we certainly think the state owes it to taxpayers to assess the full costs of such a program to determine whether or not it is financially feasible. Exactly which firefighters would qualify and under which specific circumstances would need to be clearly spelled out. The success or failure of such a bill will be in its details.

If enhanced worker's compensation proves impractical we strongly urge Pantelakos and her legislative colleagues to explore other means of providing financial protection to the men and women in our fire departments who provide such a vital and often life-saving service to our communities.

SEACOASTONLINE.COM

The Kid's Christmas Party Committee would like to thank all the members and family that helped in a successful day.
Happy Holidays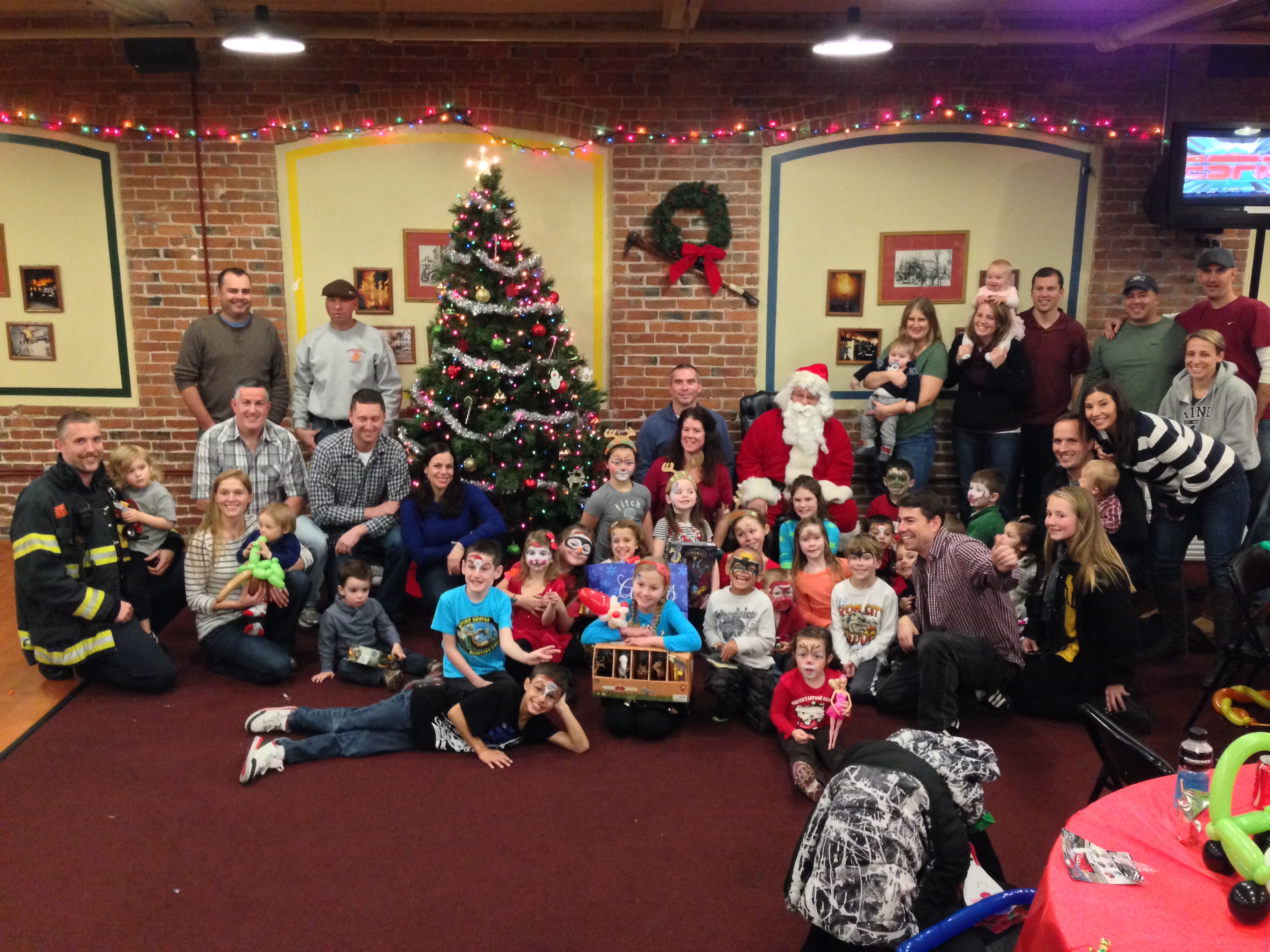 Boston Fire and EMS Detailed to Scene of Explosions at Boston Marathon
April 15, 2013 –Members of Boston Local 718 Boston fire fighters are responding after two explosions in Copley Square – the finish line of the Boston Marathon and the heart of downtown Boston. More than 100 were already detailed to the event for the marathon.

The explosions occurred at about 2:45 p.m., more than two hours after the first of the race's nearly 27,000 runners had crossed the finish line. CNN is reporting three people were killed and 176 others injured.
The IAFF has been in contact with IAFF 3rd District Vice President Michael Mullane for more information as it becomes available.

"Our thoughts and prayers are with those injured at the Boston Marathon and the people in Boston." says IAFF General President Harold Schaitberger. "We are thankful for our members and other brave first responders helping those in need."

Runners who had not finished the race were diverted to a family meeting area, according to an emergency plan that had been in place.

Washington, DC, New York City and several other major U.S. cities are at a heightened level of security as an extra precaution because of the events in Boston.
The Deadliest Jobs in Massachusetts
Thursday, April 26, 2012
Fifty eight workers died on the job in Massachusetts last year and firefighting supplanted construction as the most dangerous job in the state, according to a report from the Massachusetts Coalition for Occupational Safety and Health (MassCOSH).
Firefighting overtook construction as the deadliest job in the state in 2011, rising from 5 work-related deaths in 2010 to 13 last year, accounting for 22 percent of all workplace fatalities. In 2010, the construction industry topped the list with 10 on-the-job deaths, but dropped to second place with 8 fatalities. Also on the list for 2011 were the transportation industry with 7 job-related deaths, and three commercial fishermen died to their trade, compared with four in 2010. The human services industry, with workers in the mental health, social services and other areas, lost three employees in 2011. Three people also died doing tree care and removal.
New report
The news is part of a report entitled "Dying to Work in Massachusetts: Loss of Life and Limb in Massachusetts Workplaces. MassCOSH released the report Wednesday, three days before the 23rd Workers' Memorial Day Saturday, April 28. Of all the information included in the report, one piece stands out the most for Jeff Newton, membership and communications coordinator for MassCOSH.
"What we find most disturbing," Newton said, "Is that it's often the same types of accidents leading to death on the job, year after year."
Motor vehicle-related accidents and falls led the way in 2011, just as they did in 2010. Each accounted for 12 of the 58 work-related deaths last year, combining to make up almost a quarter of all fatalities. The number of transportation-related deaths was the same as in 2010, while deaths resulting from falls rose from nine that year.
The other alarming fact: the 58 workplace deaths last year represented an increase of 11 over the 47 in 2010. It broke a string of four straight years of decline in on-the-job fatalities: from 80 in 2007, to 66 in 2008, 60 in 2009 and 47 in 2010.
Who is dying
Most people recognize the dangers firefighters face each and every day, not unlike their counterparts in law enforcement. And when a firefighter dies, the tributes and memorials are sincere and moving. Still, 13 firefighters lost their lives on the job last year and all but three of them died as the result of cancer or heart disease.
Two, including Worcester's Jon Davies, died while battling a fire, while another was crushed while working on an emergency vehicle. Davies was 43 when he died Dec. 8 after a triple-decker collapsed during a three-alarm fire.
While active, line-of-duty deaths may capture the public's attention, occupational cancer is a huge threat to firefighters, especially because of the chemicals and other substances released into the air during a fire.
"Not long ago, we were seeing many cases of black lung and white lung," Newton said. "There are still certain professions where there are exposures that can lead to these and other complications. It's not just work-place fatalities, but illnesses. Cancer is a disease commonly associated with firefighting."
In fact, while most people are well aware of the immediate physical hazards for particular jobs, they may not consider the illnesses that can be contracted. In 2011, an estimated 580 workers died from occupational disease. About 1,800 new cases of cancer were diagnosed in Massachusetts last year, also. Additionally, 50,000 other workers were seriously injured.
The average age of an employee who died on the job in 2011 was 49, but the majority of those who died on the job – 54 percent – were 50 and older.
How they are dying
On the job motor vehicle accidents and falls are repeat offenders when it comes to leading causes of worker deaths. It is something that deeply troubles Newton.
"We strongly encourage workplaces to make their workers' health and safety a main priority of their business," he said.
Sadly, that is often not the case, especially when it comes to falls in the construction industry. There were 12 total deaths as a result of falling in 2011 – five on construction sites. From 2007-2011, 76 Massachusetts workers died in a fall while working construction. Construction-related falls accounted for 44 of them, or 58 percent. The majority of workers – 25 percent – fell from roofs.
"We find many employers are not providing construction workers with fall protection," said Newton. "There are many needless deaths each year."
The Massachusetts Department of Public Health (DPH) acknowledged the issue of the same types of accidents occurring on the job every year, and said it and other agencies work hard for change.
"We do see similar patters over time," said Letitia Davis, director of the DPH Occupational Health Surveillance Program. "In terms of absolute numbers of deaths and their rates, that continues to stand out."
Falls, added Davis, are a "significant problem." She said there is a national movement to reduce the number of falls in the construction industry.
Temp work dangers
One of the problems, as Newton sees it, is the hiring done by temporary agencies. Often times, he said, those applying for low-skilled labor jobs are immigrants and others who speak little to no English and may have no idea what they're getting into. Some of these workers show up at a site believing they're working for the company that's there, when in fact they're employed by an agency.
"There is a pool of labor with limited English skills seeking employment in low-skilled jobs," Newton said. "They are targeted by temp agencies that seek profit over all else. They realize they can bully them around."
Organizations like MassCOSH stand firmly behind laws such as the "Temporary Worker Right to Know Law," House Bill 1393. Among other things, it would require employers to provide workers with limited English skills any necessary documents in their native language.
Other causes
Motor vehicle incidents are another concern. They also accounted for 12 job fatalities, half involving a car or truck crash and the other six involving a worker struck or crushed by a vehicle. Workplace violence accounted for six deaths in 2011, including 25-year-old Stephanie Moulton, an assistant manager at the North Suffolk Mental Health residential home. She was abducted and killed by a client while working on Jan. 20 last year.
Five drowning deaths occurred last year, three of them in the commercial fishing industry.
Firefighters' deadly burden
Having ascended to the top of list of deadliest jobs, firefighters find themselves in the spotlight once more. Most people know the job is dangerous, but many may not consider the dangers posed not just while battling a fire, but long after the last embers have burned. With 10 firefighters succumbing to cancer or heart disease last year, greater attention should be turned on many other they face, according to Davis.
"Firefighters face a broad range of hazards, from death to exposure to harmful chemicals and other elements," Davis said. "There's also the stress that goes along with that job. It's a high-risk industry."
No one has to tell that to Edward Kelly, president of the Professional Firefighters of Massachusetts. He has seen the numbers – but more importantly, he and thousands of other firefighters have lived them.
"The data clearly shows as firefighters we're exposed to carcinogens," Kelly said. "We have an extremely high likelihood of being diagnosed with cancer, lung disease and cardiac events. That is due to the exposure to so many different things, the high stress over many, many years and the extreme rush of adrenaline to the heart."
Knowing they could die at any time comes with the job, but doesn't make it any easier, according to Dennis Leger, executive aide to the Springfield Fire Commissioner.
"Nobody's looking to come to work and not come home," he said. "But things happen very quickly in this business. Firefighting is an inherently dangerous profession. The numbers are an indicator that it's the nature of the best. But a well-trained and well-equipped firefighter is a safe firefighter."
That has been one of the problems of late, Kelly said. Money has been tight and cuts have been made. That has unfortunately led to an increase in injuries and accidents.
"In these challenging economic times, often fire departments become the chopping block for local budgets," Kelly said. "Things like replacing fire apparatus, investing in training and maintaining and providing the newest equipment suffer. Firefighters are often forced to do more with less."
Dangers in other areas
Moulton probably wasn't expecting that Jan. 20, 2011 would be her last day alive, but it was. She was one six people killed while working last year. Budget cuts and other factors can all be pointed to as factors, but there are steps being taken to protect employees from workplace violence, especially human service workers. One involves a push to pass "An Act to Promote Public Health through Workplace Safety for Social Workers," House Bill 592 and Senate Bill 1206.
Stephanie's Law, which has been pushed by Moulton's mother and sponsored by Senator Fred Berry, D-Peabody, would require social service workers, who often work in isolated circumstances, to carry an emergency device similar to that often made available to senior citizens. The worker would be able to click a button and send an immediate emergency signal to authorities. MassCOSH sees that as a necessity.
"Some social workers work with clients by themselves," Newton said. "They should not be working alone at any time of day or night. It can expose them to a client who is not in a state mind ideal for the safety and health of the worker."
A stronger OSHA
Davis said much as has been done to try to increase workplace safety, citing Gov. Deval Patrick's Executive Order 511, which he signed in 2009. The order established the Massachusetts Employee Safety and Health Advisory Committee and signaled the state's commitment to providing a healthy and safe working environment.
But one of the most important steps that can be taken, according to Newton, is to properly staff and fund local Occupational Safety and Hazard Administration OSHAchapters. He also lamented the fact that Massachusetts is one of only a handful of states that does not have OSHA protection for state employees.
"OSHA has been responsible for a fantastic reduction in workplace fatalities and injuries," he said. "It is a fantastic tool. It is understaffed and underfunded. Another problem is many times the fines they assess are just a couple thousand dollars. A lot of employers find it cheaper just to pay the fine and not pay for new equipment."
The state Legislature would have to vote to adopt OSHA protection for state workers.