| | | |
| --- | --- | --- |
| Welcome | | You are not currently logged in. |
| | | |
| --- | --- | --- |
| | | |
| | | |
| | | |
NDS Ultrasound Screening will be returning to Keating Hall at the beginning of May. Active & Retired members are invited to register. Please refer to the attached Flyer for all the details and the link to register for an appointment. NDS will be at the hall for the week but we expect appointments to fill fast. Be advised members who have AFLAC are eligible for a preventative medical reimbursement if you have the Accidental and/or the Cancer plan coverage.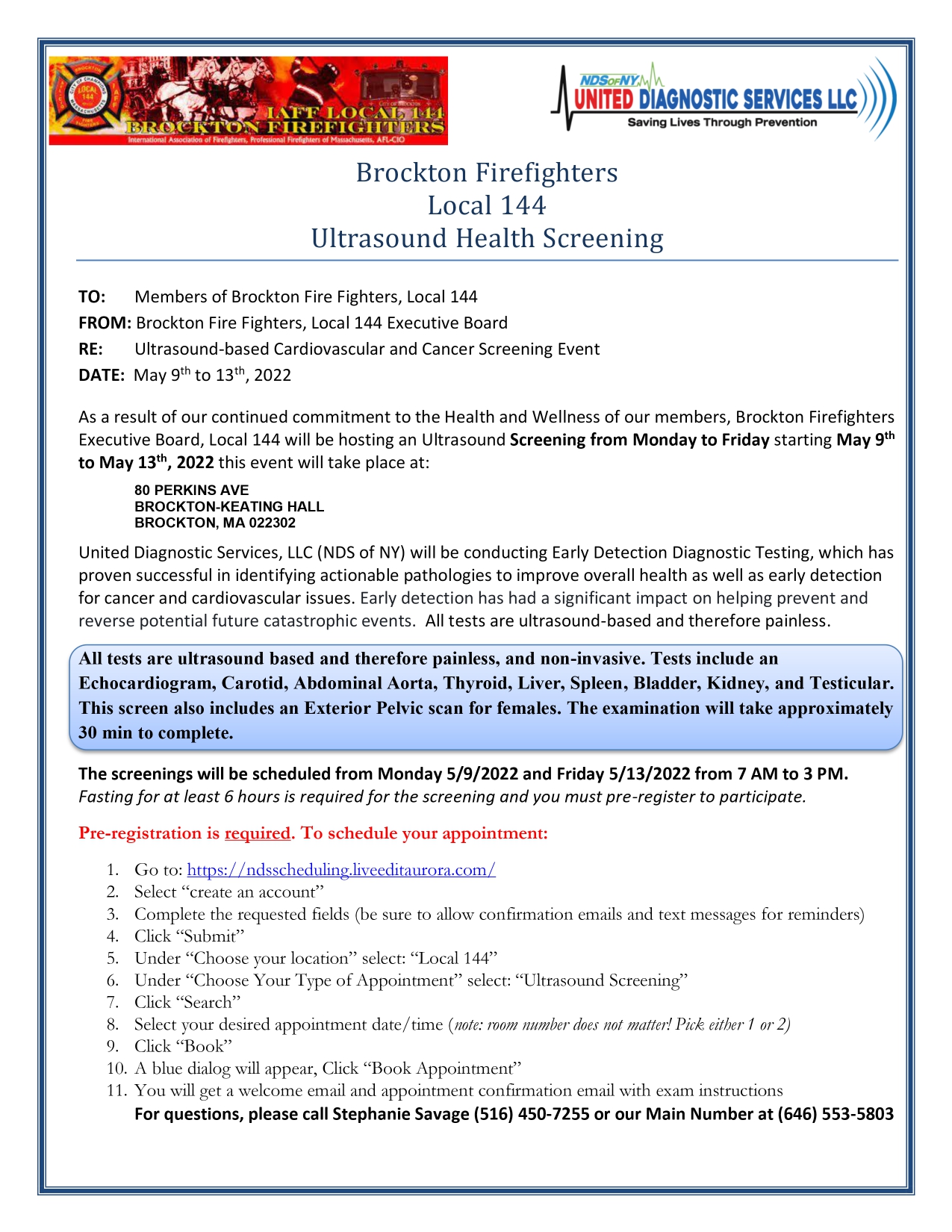 December 12, 2018
Brothers & Sisters,
Seventy-three years ago today, the Associated Fire Fighters of Massachusetts received our Charter from the International Association of Fire Fighters (IAFF). On that day, there were only twelve Locals in the newly formed "AFFM". They included; Boston, Brockton, Cambridge, Gloucester, Holyoke, Lawrence, Lynn, New Bedford, Newburyport, Northampton, Quincy, and Springfield.
In 1975, at the AFFM Biennial Convention, the delegates voted to change the name to our current, Professional Fire Fighters of Massachusetts, effective January 1, 1976.
As we prepare in the coming days, to lay our Worcester Local 1009 Brother Christopher Roy to rest, I ask you to pause and reflect on how we got to where we are today.
Our PFFM, which started as an Organization of just 12 Locals, has swelled to over 220, representing over 12,000 IAFF Fire Fighters and Emergency Medical Technicians and their families across Massachusetts.
We have been in the business of protecting fire fighters and their families for 73 years. We have stood at attention at the Line of Duty Death funerals for over 900 of our PFFM Brothers and Sisters. This is what we do as fire fighters. Our PFFM has secured countless benefits and pensions for widows and families, and ensured that our fallen are never forgotten. This is what we do as a Union. This is our business, and this is Our PFFM.
In closing, I am honored for the opportunity to be serving as your President, and I look forward to the challenges ahead.
In solidarity,
Richard MacKinnon, Jr.
Richard MacKinnon, Jr.
Proud President
Professional Fire Fighters of Massachusetts
| | | |
| --- | --- | --- |
| | Contact Elected Officials! | |
| | | |
| | | |