| | | |
| --- | --- | --- |
| Welcome | | You are not currently logged in. |
| | | |
| --- | --- | --- |
| | Contact Elected Officials! | |
| | | |
| | | |
| | | |
| --- | --- | --- |
| | | |
| | | |
| | | |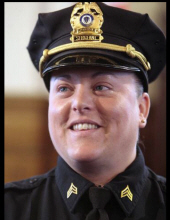 Brockton Police Sgt. Tracy L. (Harrington) Barbas
Tracy L. (Harrington) Barbas, 42, of Brockton, passed away on Monday morning, January 15, 2018 at the Good Samaritan Medical Center in Brockton surrounded by her family after a courageous battle with brain cancer. She was the loving wife of Chris Barbas.

Born October 23, 1975 in Stoughton, she was the beloved daughter of James E. Harrington, Sr. and Karen J. (Neas) Harrington. A lifelong Brockton resident, she was raised in Brockton and attended the Ashfield School, St Edward and graduated from Cardinal Spellman High School and also obtained a bachelor of science degree in Criminal Justice.

Tracy joined the Brockton Police Department in 1999 as a Patrol Officer and then became the City of Brockton's first female Police Sergeant in 2012.

Tracy was an avid sports fan with a special love for the Alabama Football program. She enjoyed traveling and was most happy to travel and spend time with her family in Aruba this last November.

Tracy is survived by her beloved husband Chris Barbas; her loving parents, James and Karen Harrington of Brockton; her siblings, James E. Harrington, Jr. and his wife Ann of West Bridgewater, Patrick J. Harrington and his wife Diane of Bridgewater and Shannon M. Harrington of Freetown; her nieces and nephews, James Harrington, Joseph Harrington, Christina Harrington, Hailey Cahill, Megan Harrington and Patrick Hogan; her mother-in-law, Heidi Barbas; her brother-in-law, George Barbas.

Funeral from the Russell & Pica Funeral Home, 165 Belmont St., (Rt123) Brockton on Friday, January 19th at 9:30AM thence to Our Lady of Lourdes Church, 439 West St., Brockton where a funeral mass will be celebrated for the repose of her soul at 11:00AM. Interment will follow in Melrose Cemetery, Brockton. Calling hours in the Russell & Pica Funeral Home on Thursday from 3:00-8:00PM.
Melvin G. McRae
1/4/2018


Melvin G. "Cap" McRae, (Ret BFD) age 87, of Brockton, died January 4, 2018 on Cape Cod surrounded by his family and friends. Cap was the loving husband of the late Barbara A. (Crocker) McRae for 52 years. Born and raised in Brockton, he was the son of the late Melvin J. and Doris W. (Silvia) McRae. He graduated from Brockton High School in 1948 and received his associates degree in Fire Science from Massasoit Community College. He was an Army Veteran and served in Germany during the Korean War. Cap was a member of the Brockton Fire Department for 32 years and retired as a Captain in 1988.

Before entering the Army, he attended the Stockbridge School of Agriculture at the University of Massachusetts, Amherst. He loved growing his beautiful geraniums and other flowers in his greenhouses. His hobbies also included woodworking. With his beloved wife Barbara, he enjoyed traveling all through the United States and Europe. Cap most enjoyed spending time with his grandchildren and teaching them what life was all about. He treasured his time on Cape Cod and enjoyed the company of many friends at his local hangouts, especially his Thursday morning coffee group, with his fellow retired firefighters.

Cap is survived by his daughter, Barbara MacKinnon and her husband William and their children Billy MacKinnon, Courtney Voorhees and her husband George, and Michael MacKinnon, his son David and his wife Carla and their children Maggie and Matthew, and his daughter Patricia and her children Jennifer and Camella. He is also survived by a number of great grandchildren. Cap loved all animals but had a special place in his heart for his four legged best friends Patrick and Fitzgerald.

The family would like to take this time to thank the staff at Massachusetts General Hospital and the VNA/VNA Hospice of Cape Cod for the excellent and compassionate care given to our father and us.

Visiting hours will be held in the Conley Funeral Home, 138 Belmont Street (Rte 123) Brockton, Thursday, January 11, from 4-8pm. The funeral procession will gather at the funeral home Friday at 8am for a Funeral Mass in Our Lady of Lourdes Church at 9am. Burial will follow in Melrose Cemetery. Please consider donations in Caps name to the Strand Theater Memorial Fund, PO Box 868, Brockton, MA 02303 or the Brockton Firefighter Pipes and Drums, PO Box 4141, Brockton, MA 02303.